Ageing is an inevitable process and none of us like to admit is happening. How or what happens to us within the aging process is based on many factors including genes and lifestyle choices. How we combat the signs of ageing or prolong it is dependent on our financial status, pain threshold and what we are emotionally comfortable with.
Recently there has been a big hype around non-surgical cosmetic procedures which includes the PDO thread lift also known as 'lunch hour' face lift.  London-based Dr. Zafar S Khan from  The Face Lift Clinic explains that the PDO thread lift has become increasingly popular among women and men of all age groups. He believes this is due to it having less or minimal "downtime" and because less risks are involved. We asked Dr Khan to explain this much talked about procedure and the results patients can expect.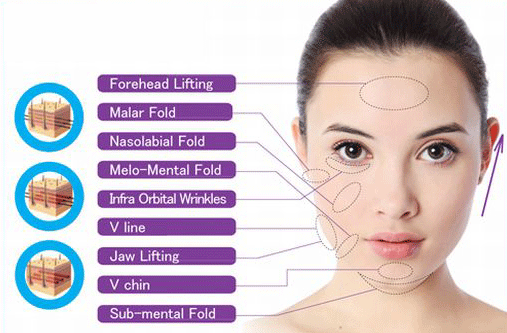 What is a PDO Thread Lift?
PDO which is short for Polydioxanone is a material that is commonly used to make the sutures or fine threads that close up wounds in open heart surgeries. These threads are inserted into targeted areas under the skin to stimulate skin tissue. By creating new tissue fibroblasts and collagen it produces a tightening effect from the inside out. The most popular areas where patients have it done are on the face, eye corners, cheeks, double chin, neck, forehead, laugh lines, forearm and abdomen. It can also be used to lift the nose bridge, giving it a naturally elevated look.
How is a PDO Thread Lift done?
The PDO thread lift I do is a less invasive kind than the Silhouette thread lift. I start by putting numbing cream on the patient's face or area of skin. I then draw out a graft and insert the threads into the sub-dermal layer of the skin. Over a 6-7 month period the threads will disintegrate and help the skin produce its own collagen, elastin, and smooth away any wrinkles or lines.
Silhouette thread lifts which I mentioned earlier are more invasive. The threads used in those procedures have inverted cones which often result in swelling and bruising. More importantly there is a higher risk of the procedure going wrong and leaving the face uneven or unbalanced. The less invasive PDO thread lift that I do takes about 30 min to 1 hour, depending on the treatment area. There is hardly any pain, bleeding or swelling and patients can go back to work after the procedure. As the threads are dissolvable, they are slowly absorbed into the body safely. Some minor side effects are minor pain, swelling and bruising.
Where can one have a PDO Thread Lift done and who is suitable?
Anyone can have a thread lift done in one area of the face such as the jowls, chin, neck, cheeks, forehead or the whole of the face. The procedure can also be done in the décolletage to correct sagging from sun damaged skin. It can also lift eye brows, so there are many ways to apply it. The procedure is best suited to most people aged 25, or when the effects of ageing start to become apparent.
What results can be expected from a PDO Thread Lift?
The results of a PDO thread lift are not immediate. It takes time for your own skin to produce the collagen and elastin. The procedure also varies from patient to patient. Genes, lifestyle choices such as diet, smoking and drinking can inhibit or prohibit the process. In all my consultations I tell my patients how much, or what percentage of improvement they can expect, in each area of their face or body using the information they have provided me. If and when you achieve results, the effects can last up to 1-2 years. There are also rare cases where PDO thread lift simply doesn't work on some individuals.
Costs at The Face Lift Clinic :
Forehead Line £450
Cheeks £450
Eye Bags £250
Lower part of face £550
Neck £450
Interview by Lillian Gusto.
---