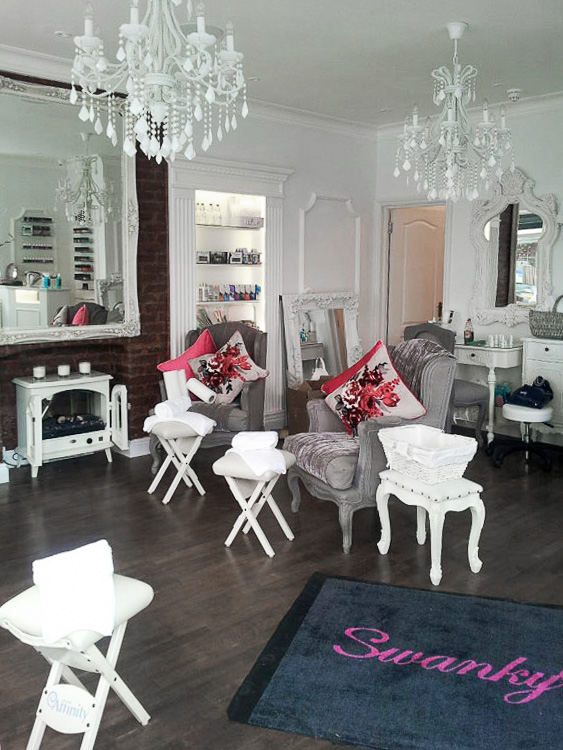 Photo: Courtesy of Swanky Lash & Brow Bar.
The buzz
Swanky Lash & Brow Bar was set up by sisters Donia and Sophia, who wanted to create a sanctuary for women where they could escape their busy lives, be pampered and connect. Certainly they have fulfilled this mission with a busy day at Swanky looking like a scene taken out of SATC where women are talking over each other as they share their life stories and ask each other for advice. Swanky has two branches, one located in Kensal Rise and the second on Portobello road, specialising in manicures, pedicures, lashes and eyebrows. Their celebrity fans including Caprice and Sienna Miller who swear by the Swanky Triple Scrub Pedicure.
Verdict
We visited Swanky's Portobello branch which looks like a beach house with comfortable chairs that all have a pillow and blanket. You cannot feel anything but comfortable in this beautiful and warm atmosphere. You are greeted by the friendly technicians that want to get to know you – yes, you are much more than just a number to this salon. You will note a beautiful scent as soon as you enter, this is their home made scrub. At Swanky they don't believe in shaving calluses (the process of removing the dead skin from your feet with a razor blade) as it can cause thicker and rougher patches. Instead, they use their nourishing scrub mixed with essential oils for a more natural process. We noted that the sister's attention to detail has rubbed off on all therapists who take their time to make sure your treatment is a treat from start to end, with special attention focused on getting the polish application absolutely immaculate. We especially loved the delightful hand and foot massage. Our Swanky manicure lasted for close to 10 days and you know how rare that is.
Good for
As relaxing as the treatments are, this is more of a buzzing nail salon especially during the busy weekends. Great for drop-in but even better for a planned visit with a friend where you can both get pampered and catch up on each other's lives.
The details
Brow shape £6, lash extensions from £35, manicures from £10 and their luxury Swanky Triple Scrub Pedicure £25. To book an appointment call 020 8969 7580 (Portobello Rd) and 020 8964 2569 (Chamberlayne Road).
---