Luxury or 'niche' perfumery is one of the fastest growing categories in the beauty industry. ROJA PARFUMS is one of the handful of brands that have broken through on the global luxury stage. Renowned for the creative style of its founder and perfumer, Roja Dove, the brand has grown in 6 years from its origins in Harrods to a presence in over 200 stores around the world. Dominic Venton is a founding partner and director of the firm, responsible for the commercial development of the brand. 
Hey Dom, what's happening? NUIT  hit me up to interview you. They know we're friends and reckon I can get more out of you. LOL.
Mr. Sauvage, good to see you. Yes, I've witnessed first hand your ability to get people talking.
They don't call me Columbo for nothing. So let's start at the very beginning. You  wanted to be a lawyer?
Actually not really – I just studied it a lot (laughs). Growing up in the 90's in a small Cornish village, I was fascinated by New York City. I remember watching movies like 'Kids' thinking how exciting life there must be. So after studying corporate law at UCL and then Cambridge, I applied for a masters at Columbia Law School.
Only you would do a third law degree when you knew you didn't want to be a lawyer. Why didn't you just move to New York?
 I guess I thought an Ivy League degree would open doors in the US. Looking back, people did take me much more seriously than they should have at that age once they knew where I'd studied.
Americans do love law degrees. How was living in New York?
It was great. When I arrived, the only person I knew in the city was Matt Swanson – a buddy of mine from Cambridge. He took me out, showed me the sights and really made me feel at home. Matt eventually realised that I wasn't so concerned with my studies and asked if I wanted to start a business with him. It sounded great so I called my father, Bobby, who gave me the best advice anyone could have by saying, 'if at your age you somehow have the opportunity to open your own business in Manhattan, there isn't anything to think about.'
So you quit the law and became an entrepreneur. Give us the skinny on the business you started.
It was an frozen yogurt shop called Eskimix on Bleecker Street in the West Village. My brother, Mike, came out to New York and the three of us worked to create the concept from scratch. I juggled the work with my masters degree, opening the shop two weeks after graduating from Columbia. Eskimix was an extraordinary chapter in all of our lives. Living and operating a business in the West Village was something I'll never forget. It was a real community and I learned so many lessons in life and business through being a part of it. I also met some of the most interesting people on earth: leaders in entertainment, art, fashion, and commerce all live in the West Village and many became customers, some of them close friends.
Boom. Fast-forwarding from fro-yo to fragrance, how did you end up in the luxury game?
Within two years of opening, the financial crisis had hit New York and business became tough. At around this time my brother suggested we meet up with an acquaintance he'd made in London. This man was a perfumer named Roja Dove and he was in town for the opening of the Met opera. So we went for dinner at the Waverly Inn, around the corner from our apartment. I was fascinated by his stories and anecdotes from the perfume industry. He seemed to have an encyclopaedic knowledge of everything to do with fragrance, speaking about it in the most captivating way.  
I visited London a few months later and Roja returned the invitation for dinner. After a couple of drinks we started to talk about his idea to start a luxury fragrance brand. I gave my opinion on what it should be, where it should sell, and how it should be developed. At some point towards the end of the evening, he said, in a nice tone, 'you'll have to excuse me but you're talking as if we are working together'. I said I liked the idea, and we struck up the beginnings of a partnership there and then.
So what was the game changer? What made you decide it was something worth pursuing?
What I saw very clearly was an enormous gap in the market. After grilling Roja over dinner I couldn't believe that there wasn't a competitive selection of higher end products in perfumery. It was incredible to me that the smartest options for a luxury fragrance consumer were largely available on the high street, and basically all for under £100. Roja had the legitimacy, knowledge, reputation and charisma that a brand of this nature needs, and my gut said that I should work on it with him.
So you packed your bags and Rovers Returned it back to the UK?
Exactly that. I went to Brighton to meet with Roja's other two colleagues: Peter, his husband, and Jamie. After a warm, welcoming discussion we decided we would all work as partners, and ROJA PARFUMS was born. It took a year to develop our first collection of products, with the brand launching in the Harrods Black Hall on July 2nd, 2011. The idea was that we would offer a fully balanced palette of fragrances – one for every taste and preference. It was important to all of us that we only ever use the very finest raw materials. So, from our candles to our 'Legacy Collection' of £15,000 one off fragrances, every item bearing the ROJA PARFUMS brand is made using the rarest, most expensive materials on earth. It's why our clients are so loyal: no other brand makes fragrance in quite the same way.
Totally. You know my mantra: if it's not WOW, put it in the bin. How did it go?
I'm happy to say that we were all astonished by the success. All of our products sold out in Harrods within the first two weeks of the launch. It was insane. There were ladies dripping in diamonds and crocodile Birkin bags arguing over whether they could buy the half-used testers. The beauty world is relatively small, and within 18 months Roja and I were discussing our launch in New York with the imitable Pat Saxby, Vice President at Bergdorf Goodman. Things snowballed from there and we now sell in over 200 of the world's most luxurious stores, in over 60 different countries.
Jeez… round the world in 80 days. So would you say the global development of the brand has been difficult?
Having never done it before I don't have a reference point, but the brand's growth has always felt like a natural evolution. Of course there have been highs and lows.  I remember one February visiting six German cities in five days only to find out I had to go to Kiev, Moscow and Azerbaijan the week after. It was minus twenty degrees in Kiev and the Ukraine was under military occupation. I turned up in a light wool suit to talk about luxury perfume.
(laughs) Hotel Ruanda! And how about the creative? You and I have rapped together for days on concepts and designs for House A. Sauvage, and I've got a lot from the process. Do you ever work with Roja on this side of the business?
The creative is really Roja's domain.We do however work very closely on new product concepts and designs. We travel for weeks at a time together and it is on these trips that we come with and develop new ideas. In this way and many others it has been a very productive partnership.
I've heard some rumblings from clients and the press about a new men's launch?
Absolutely, it's called ELYSIUM and it's the first launch that I've really taken the lead on. When we first launched ROJA PARFUMS, we catered very deliberately for the extremely wealthy,  and fragrance connoisseurs – those that would break the bank to own one of Roja's complex and beautiful creations. There is however a new client for our products – guys like you and me – and ELYSIUM provides for that demand.
So how did ELYSIUM come about?
For the past few years I have spent a lot of time in Miami with my fiancé, Ana.  This gave me the opportunity to think long and hard about the business, as our office in London was closed from 12.30pm EST and my afternoons would often be free. I became obsessed by the idea of a men's product that fitted with my specific taste and aesthetic. As unlikely as it sounds, I was watching the movie 'Gladiator', when Maximus declares to his loyal, war-weary troops that they should fear not dying today, for if they do, they will find themselves in Elysium! I knew there and then what this product should be called. It was perfect –  masculine, ethereal sounding and deeply meaningful. It was thought that the Elysian Fields were where heroes of war went when they died on the battlefield. I excitedly worked on the bottle, box and visual concepts with our amazing graphic designer, Joana, before presenting the concept to my business partners. They loved it, and Roja went on to create what I believe to be the best men's fragrance ever made. Ultra fresh while maintaining an elegant, masculine and luxurious 'dry down'. I've yet to meet a man that doesn't like it.
Can't wait to have it in the studio! So what's next for you and the brand?
We are focusing on opening stand alone boutiques around the world. In the next two months we will open flagships in Bahrain, the Dubai Mall and Moscow. As for me, I am getting married in Brazil next year, wearing ELYSIUM and a House A. Sauvage suit, of course.
Adrien Sauvage is a globally renowned creative director, photographer, fashion designer and filmmaker, with studios in LA and Mayfair in London. Described by the Evening Standard as 'the future of British menswear', his eponymous brand A. SAUVAGE boasts a loyal following of some of the most recognised faces on earth, including Robert Downy Jnr., Noel Gallagher, Dwyane Wade, Jude Law and Anthony Joshua to name just a few.
Interview and clothes by Adrien Sauvage
Photography by Dimitri Theocaris
www.rojaparfums.com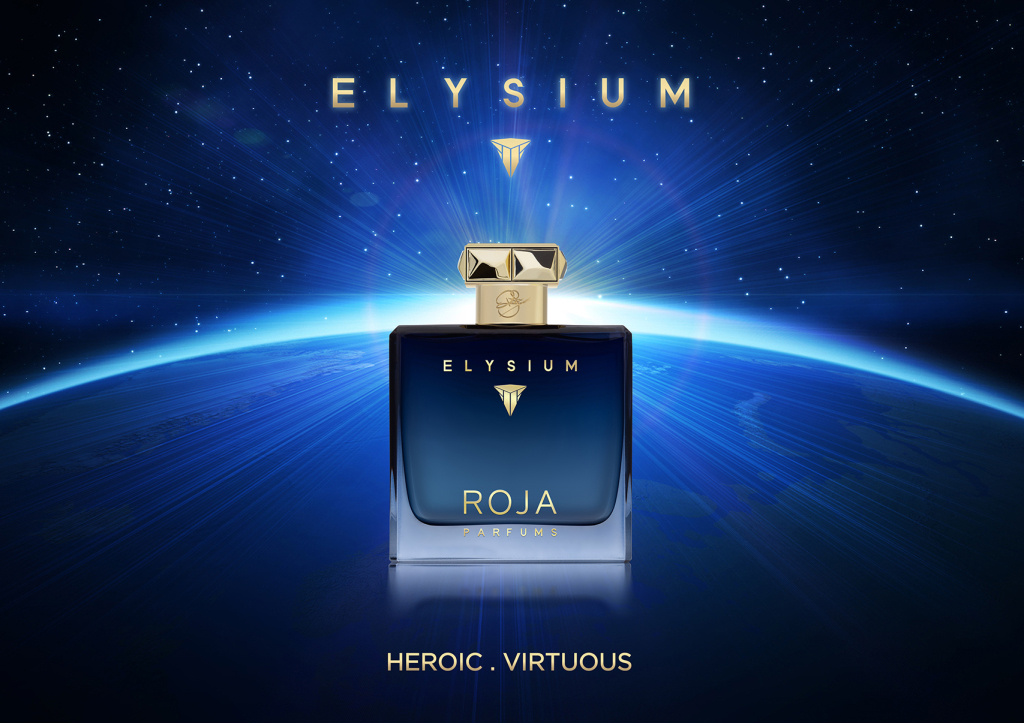 ---