Tommaso Anfossi and Francesco Ferrari first met while studing at the prestigious Istituto Marangoni in Italy. It wasn't necessarily love at first sight but their strong artistic affinity prevailed. In 2012 the CO|TE brand was born to immediate recognition. They tell NUIT how they revolutionised the archetypal Italian woman and projected her into the future.
Who is the woman you design for?
We create for a contemporary and cosmopolitan woman, who likes to travel and discover the world. A woman who does not have a geographical position but has a strong character and wants to emphasise it through a sophisticated style and a certain attention to detail.
Where would you say you fit in within the Italian fashion scene?
We think it is very important that our products are Made in Italy but we also want to put emphasis on this tradition moving forward. We want to take our creations to a new level, a new vision, that of two young designers that live in the present with a contemporary vision, but ensuring to pay attention to the design and quality of traditional Italian clothing.
Who were your fashion icons when you first decided to become designers?
The one and only Amy Winehouse!
How do you manage to combine art and commerce? Is it a compromise?
You have to balance art and commerce to create garments that are versatile but at the same time have something special, something different from what you can find in stores. For CO|TE,  it's the packaging and presentation that brings our buyers  a more luxurious experience and make them feel like they are receiving something special.
Do you remember how you felt when you first heard of Alexander McQueen death?
Really bad! It was a huge loss not only for the world of fashion but for the world of art.
Do you remember the first time you two met?
Yes! In the beginning there wasn't much harmony between us. Later our friendship developed in time and has become something special. The more we discovered about each other, the more we realised we had to create something to represent both our ideas of fashion.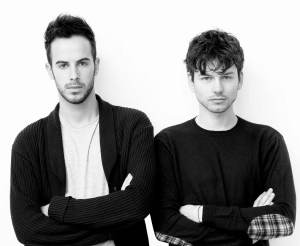 Interview by Baldini.
Photography by Cosimo Buccolieri.
---